Ale Trail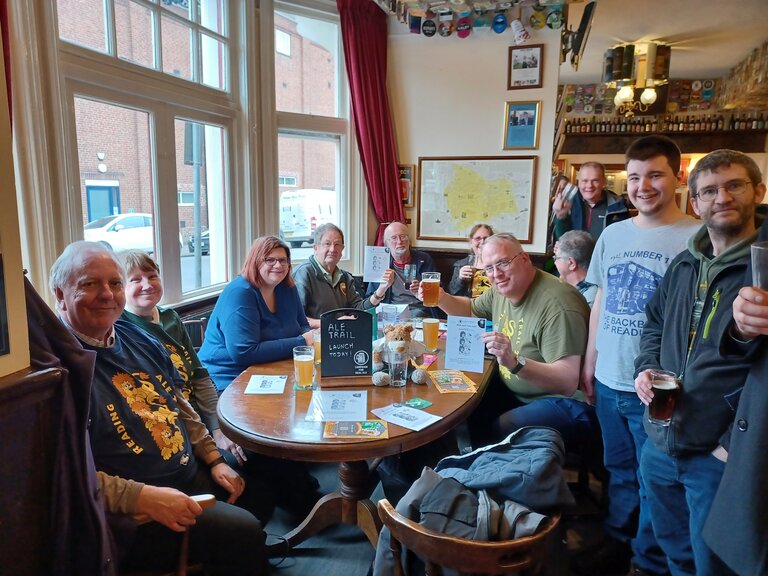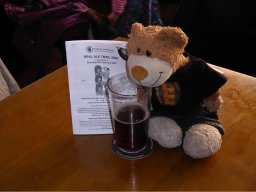 This page contains limited information about the 2023 Ale Trail. For the most up to date information, visit the Reading Ale Trail Facebook Group.
2023 Ale Trail Participating Pubs.
Alehouse, Reading
Allied Arms, Reading
Castle Tap, Reading
Nag's Head, Reading
Turks Head, Reading
Lyndhurst, Reading
Retreat, Reading
Greyfriar, Reading
Moderation, Reading
Clifton Arms, Caversham
Fox & Hounds, Caversham
Black Horse, Emmer Green
Flowing Spring, Play Hatch
Bull, Sonning
Heron On The Ford, Charvil
Waggon & Horses, Twyford
Bell, Waltham St. Lawrence
Jolly Farmer, Hurst
Wheelwright's Arms, St. Nicholas Hurst
Bell & Bottle, Shinfield
George & Dragon, Swallowfield
Royal Oak, Tilehurst
Fox & Hounds, Tilehurst
Falcon, Theale

Booklets are available for £2 from the Fox and Hounds (Caversham), Nags Head, and Alehouse. The Falcon and Black Horse also have a few for sale. There are only 550 booklets available in total. Books are available at the official launch on 4th March at The Nags Head from 12.30.
The deadline for the return of all booklets for inclusion in the prize draw and ordering of T-Shirts is Sunday 14th May 2023.
What's the Ale Trail all about? The FAQs
Ale Trail FAQs
Part One - The basics:
Q. What is it?
A. The Ale Trail is an annual event run by Reading & Mid Berkshire CAMRA in Spring to encourage people to find some local pubs in the Reading area. This year 550 booklets have been printed featuring 24 pubs. The task is simple: get yourself a booklet, then for a minimum of a half pint of real ale or real cider (or a soft drink for designated drivers) you ask for a sticker. Collect all 24 stickers and submit your booklet by the deadline for a reward and a chance to win a prize.
Ale Trail booklets will be available to purchase from the launch day at the Nags Head and also at the Alehouse in Reading and the Fox and Hounds in Caversham.
By completing the Trail (i.e. visiting all 24 pubs and getting the appropriate stickers), you receive a T-shirt and entry into a Prize Draw. By completing 16 pubs you get entry into a Prize Draw. The booklet costs £2.
Q. How do you select pubs for the AT?
A. The criteria we use are listed below:
Selection Criteria
These are split into two categories - those that are mandatory, and those that are simply guidelines.
Mandatory
The selection shall consist of 24 pubs, all from within or adjacent to the Reading & Mid-Berks CAMRA branch area.
The contenders for, or holders of the branch Pub of the Year (POTY) and branch Cider Pub of the Year (CPOTY) at the time the Trail is finalised, will be automatically included.
Selection of a pub shall be mutually beneficial to CAMRA and the licensee.
To the best of our ability, we need to be certain that the licensee shall:


continue to trade throughout the period of the Trail;
observe his/her stated opening times (i.e. not be closed when the Trail says they are open);
maintain a decent stock of ale/cider (i.e. not run out!);
serve such ale/cider to a consistently acceptable standard; and
be able to administer the issue of stickers etc. in an effective manner (e.g. staff training; not losing the stickers; correctly issuing stickers to drivers purchasing soft drinks, but refusing them to those purchasing 'non-real' products such as traditional keg, wine, spirits etc).

Inclusion in the Good Beer Guide (GBG) does not guarantee a place in the Trail because:


CAMRA policy precludes us from including our entire selection of GBG pubs in any publication, including the Trail. This is a 'blanket' policy to protect the intellectual property contained within the Guide. It also makes sense from our point of view, as the campaigning objectives are different:
the existing GBG selection will have been made 12 months earlier, and things change over time;
the forthcoming GBG selection will currently be 'in progress' and is therefore embargoed until publication later in the year;
the Trail is an ephemeral document designed to promote local pubs to a predominantly local audience over a short (two-month) timescale, while the GBG promotes pubs to a national audience and has a one-year shelf life; and
if you wanted to do a crawl of all the local GBG pubs, you could simply buy the GBG!
Guidelines
Pubs should be split more-or-less equally between town centre, suburban and rural.
The selection should provide for a good geographical spread. Occasional 'clusters' may be provided in rural areas where several good pubs exist in close proximity, to allow participants making a long journey to score more than one hit. This makes the Trail more fun and, in encouraging more people out to the rural pubs, benefits all licensees in the cluster.
At least 18 of the pubs should be accessible by public transport. We reserve the right to include two that are not thus served; such pubs often desperately need our support and publicity, and don't deserve to be excluded. By being 'forced' to make the effort. Trail participants are presented with a challenge - and in return they get to visit pubs they might otherwise not even have known to exist!
There should be a 'churn' of at least one third of the pubs each year, so that there are always some new ones (or returning favourites) for people to try. This prevents the Trail from becoming stale.
Any pub that has been in the Trail for several years in a row should be rested, a) as part of the 'churn', b) to give others a chance and c) and to avoid allegations of favouritism. Note, however, that the commitment to include the current POTY overrides the need to 'rest' that pub for that year.
There should be confidence that the average visitor will have a consistently good experience when visiting any pub on the Trail (service, cleanliness, ambience etc).
Attempts shall be made to include 'rising stars', such as pubs with new licensees enthusiastic to promote real ale/cider; pubs whose new owners (or existing owners' purchasing policy) allows an expansion of the real ale/cider provision; pubs seen as possible future GBG contenders etc.
Where feasible (e.g. where there is a decent provision of real products), the Trail may be used to highlight and support pubs currently under threat of closure. In this there is an obvious conflict with the rule on continuing to trade throughout the duration of the Trail; a degree of compromise may be necessary!
Feedback from previous Trails shall be taken into account when preparing the new Trail.
Q. Why do I have to pay to do the Trail?
A. We are charging a £2 fee due to the limited number of booklets available this year (550). This hopefully means that only people committed to finishing the Ale Trail use the stocks and not people taking fistfuls for their friends etc.
Q. Where are the booklets?
A. Booklets are only available at three pubs, the Nag's Head and Alehouse in Reading and the Fox and Hounds in Caversham. We have only printed 550 booklets and when they're gone, they're gone.
Q. Do the pubs pay to be on the Trail?
A. No. The AT is free at the point of delivery to pubs. All pubs are selected on merit, using the criteria listed above.
Q. Why isn't (insert well-known ale pub and GBG regular) on this year's Trail?
A. There is a 'churn' of at least one third and up to one half of the pubs each year, so that there are always some new ones (or returning favourites) for people to try. Any pub that has been in the Trail for several years in a row will be rested, a) as part of the 'churn', b) to give others a chance and, c) and to avoid allegations of favouritism. The current branch Pub of the Year overrides the need to 'rest' that pub for that year. Of course, there's no reason not to visit old favourites during Trail time - in fact they would positively welcome your custom!
Q. "Pub x' etc is amazing, why isn't it in the AT?
A. Because they are not within our branch area or did not meet the criteria for Ale Trail pub selection.. Our branch area goes as far north as the Oxfordshire border, as far south as the Hampshire border, as far west as Sulhamstead/Upper Basildon and as far east as Knowl Hill (see Reading & Mid Berks Pubs & Clubs). We do include at least one guest pub from outside our branch area, to give greater variety in the Trail.
Q. I wouldn't call this a proper pub for (insert reason)
A. The Ale Trail gets most of the trailers into at least one place they would never think of going into but are still good pubs in their own right. Remember that one person's gem is another person's idea of hell!
Q. Why have you made the Trail harder to complete in recent years/why not print more than 550 booklets?
A. It costs us around £1,500 to bring you the AT, as well as many hours of time spent by volunteers.
Part Two - Doing the Trail:
Q. I am the Designated Driver but the publican won't give me a sticker!
A. You are right and they are wrong. The instructions to give 'Des' a sticker (if requested) for a soft drink is contained in the AT booklet (under Important Notes) and on the A4 instruction sheet we give out to each pub with the Ale Trail pack. If you have a smartphone, show them this page!
Q. I can't do the Trail on just real cider alone...
A. We know. Real cider is an *option* available for Trailers - but not all pubs on the Ale Trail (Ale being the operative word) serve it. Whilst the rise in popularity of real cider and perry continues year-on-year, there are simply not enough pubs in our branch stocking real cider to be able to guarantee an Ale Trail that can be completed on cider only. If a pub doesn't serve real cider, then you cannot get a sticker for another cider instead. Why not let the pub know that you would like some real cider? This may encourage them to stock it in future. Within 30 miles of Reading there are real cider and perry producers who would love to get more business. Read more at Real Cider & Perry.
Q. The publican won't give me a sticker for my pint of Magners/Bulmers/Strongbow
A. That's because they are not 'real' ciders. Real ciders generally fall into the category of how it is served, i.e. from a bag-in-a-box or using a hand pump. What is real cider? can be found here: https://camra.org.uk/learn-discover/the-basics/what-are-real-cider-perry/ Before ordering a cider you are advised to seek confirmation from the bar staff if a sticker will be given for the cider you are ordering, i.e. that it meets the real cider definition.
Please Note; the issuing of a sticker is at the publican discretion. We supply guidelines for the publican to follow, but the final decision is theirs.
Q. Uh oh! Some of the pubs have run out of stickers!
A. Unlike booklets, we replenish pubs with extra stickers to meet demand. Each pub should start with 750 so no pubs should run out if the publican sticks to our instructions. If there are no stickers, ask the publican to sign or stamp the designated space in the booklet (some have attached business cards or till receipts!) and make sure to let us know about the shortage via the Facebook page.
Q. Can I get a sticker even if I have forgotten/yet to obtain an AT booklet?
A. Of course, so long as you buy a drink! We advise publicans to cut up a sheet or two of their stickers in advance for this situation. However you cannot just get the stickers stuck on any old bit of paper, the proper booklet is the only acceptable way.
Q. Can I get a sticker for my absent friend in addition to my own?
A. One qualifying drink, one sticker. So that's at least two halves for you.
Q. Pub X was terrible and/or rude to Trailers!
A. We try hard to make sure that pubs are briefed thoroughly about their role and we are disappointed if you have a poor experience. Sometimes it is because it is the first time/a long time since the pub has appeared in the Trail so teething troubles can be excused a bit - but Bad Attitude can't. Let us know via the Ale Trail Facebook page or by utilising the comments form on the booklet as we do read them and take action where necessary. And of course, if a pub is especially nice to you, let us know too!
Q. What size are the ladies t-shirts?
According to our supplier's website the ladies-fit sizes are as follows (not available in Small owing to the size of the artwork):
| | | | | |
| --- | --- | --- | --- | --- |
| Size | M | L | XL | 2XL |
| Dress Size | 10-12 | 12-14 | 14-16 | 18-20 |
Q. Can I get a sticker for Key Keg?
A. Yes. CAMRA defines real ale from Key Keg as Real Ale if it goes in as Real Ale. In pubs that serve Key Keg you are advised to seek confirmation that the pub staff will issue you with a sticker if you are ordering a Key Keg ale.
Part Three - After the Trail:
Q. Can I get my AT booklet back as a memento?
A. We will have a T-shirt collection event from which completed AT booklets can also be collected (see our Facebook Group for arrangements).