The Village - Easter Music and Real Ale Festival
Tuesday 17 March 2015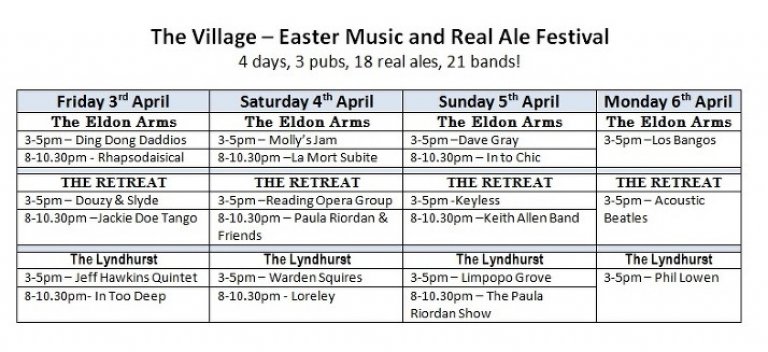 Over this coming Easter weekend three of Reading's longtime favorite backstreet pubs will be hosting the Village Music & Ale Festival. Their enterprising landlords have banded together to create a celebration of community spirit, camaraderie, music and ale
While mainstream media talks incessantly about the doom and gloom of Britain's pub crisis examples of pubs bucking the trend go largely unreported. Among Reading's numerous excellent music and ale venues the Eldon Arms, the Lyndhurst and the Retreat.
The pubs are a short walk from one another in the Eldon Square Conservation Area, aka "The Village," Reading's oldest historic preservation area. The Village is located a short and pleasant walk along Kennet Side from Reading town centre (or a short bus ride).
The idea behind the festival is to capitalize on the close proximity of the pubs to one another in their eminently walkable neighbourhood. By providing a destination event with wide appeal to both the local community and to a much wider area in and around Reading, more people will be enticed into the village, perhaps for the first time, local musicians gain exposure, and the pubs – the magnets for the whole enterprise – will further demonstrate their value as important community assets.
The pubs will remain open until 11:30 pm on each day of the festival however being mindful of their place within a largely residential community the music program has been scheduled to end no later than 10:30 pm. This leaves plenty of time for festival goers to exit the area in an orderly fashion and to catch buses/trains in the town centre.
Content gratefully reproduced from https://fueledbybeer.wordpress.com/2015/03/09/mark-your-calendars-village-easter-music-ale-festival/