Obituary: Dave McKerchar
Tuesday 12 May 2020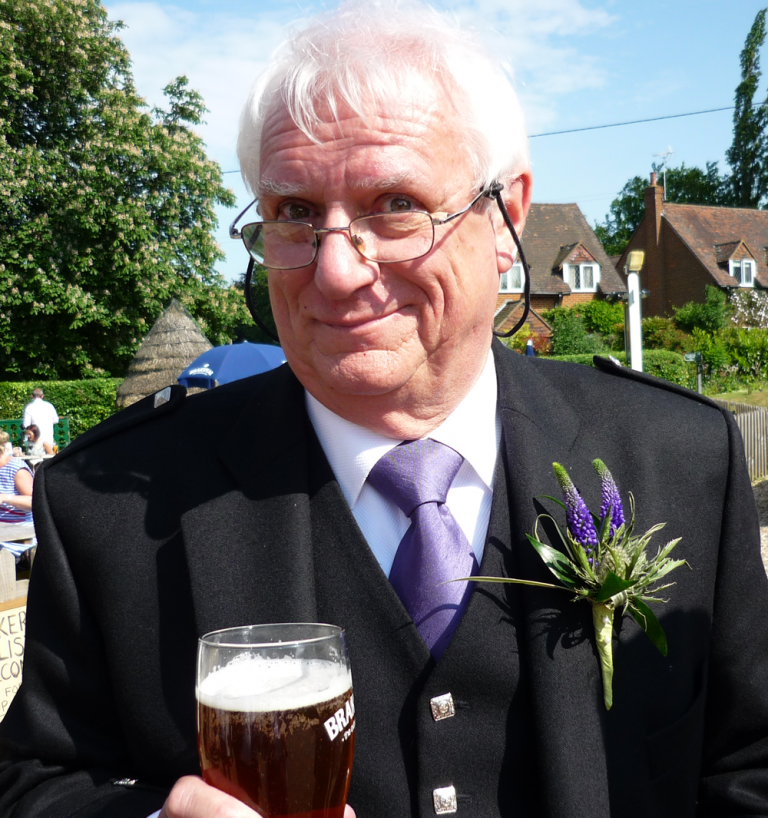 David 'Dave Mack' McKerchar, a CAMRA stalwart at local, regional and national level, sadly passed away in early April at the age of 71.
One of the many fired-up in the early 70's by the neglect of traditional ale, he remembered that you had to take your chances that beer on a hand pump really was real ale and not keg beer;
"You asked the landlord how his beer was sold." Dave said. "If he didn't tell you, you didn't drink there. If he told you and chatted about his beer, then you knew you were on to a good landlord…if it didn't make you fart or belch, it was good enough to drink!"
Dave was a very early CAMRA member, joining the Campaign in 1973 and was membership number 376 and thought "this drinking thing" sounded like a good idea.
He subsequently threw himself into CAMRA. Amongst many achievements he;
was instrumental in setting up the South Oxfordshire branch of CAMRA
served on the CAMRA National Executive between late 1977 - 1983
was Chairman for the 1983 National AGM Organising Committee
was instrumental in establishing the CAMRA Real Ale tent at the Woodcote Veteran Transport Rally - an event that continues to this day after almost 45 years
instituted the Thames Valley Drinker magazine in 1979 after this Branch stopped producing Newsletters. Dave single-handedly produced the two first editions; not just writing it but typing it, drawing cartoons and other artwork and getting it printed and distributed
was heavily involved in setting up the Reading Beer Festival, and was famous for predicting that cider would never sell; Reading Beer Festival of course became the national venue for CAMRA National Cider Champion judging
Dave contributed many years to the Reading & Mid Berkshire CAMRA branch, joining as a committee member in 1988. An irascible character when the mood took him, Dave holds a place in Reading, and possibly all CAMRA branch history, by being the only person to ever walk out of a meeting they were chairing! Another story is relayed by John Dearing; "On one occasion Dave came storming into a branch meeting and shouted in his broadest Scots; "Whooo was responsible for putting the Royal Oak at Shinfield into the GBG?" Someone who shall remain nameless admitted to being the guilty party. Dave responded; "You bloody fool! They're on blanket pressure!" and out he stormed!"
He was a well-known face in the well-regarded ale outlets of Reading; indeed he even spent a few years after retirement doing bar work in the Nags Head in Russell Street. One evening he gave chase to two teenagers who had stolen a glass from the pub and, belying the age and weight gap between he and they, apprehended them at the top of the street.
Outside of CAMRA, Dave worked in the Courage Architects' Department based in Castle Street, Reading, where he helped to design pubs. Paul Geehan recalls;
"There were many times when we would meet up and walk along the Kennet to one of the many pubs along that river for a lunchtime session. Dave knew most of the landlords and tenants and there would always be good conversation about pubs, beers and people; he was the sort of person who made friends easily, but he had the gift of persuasion because he combined authority and knowledge with a pleasant manner."
After Courage got out of running pubs, Dave worked freelance for a number of years and was engaged in designing a number of the Tap & Spile chain. He then joined Morlands (shortly thereafter to become Greene King) in 1997 - they told him there was a conflict of interests in his carrying on with chairing Reading CAMRA and he was told that he had to stand down! Despite his obviously Scottish roots Dave was also a keen supporter of Reading FC and followed them avidly around the country, allowing him to drink great beer in great pubs around the UK as a happy consequence. He was one of those rare people who could tell you, instantly, the best pubs to drink at in almost any given town or city.
Dave is survived by his wife, Ann.